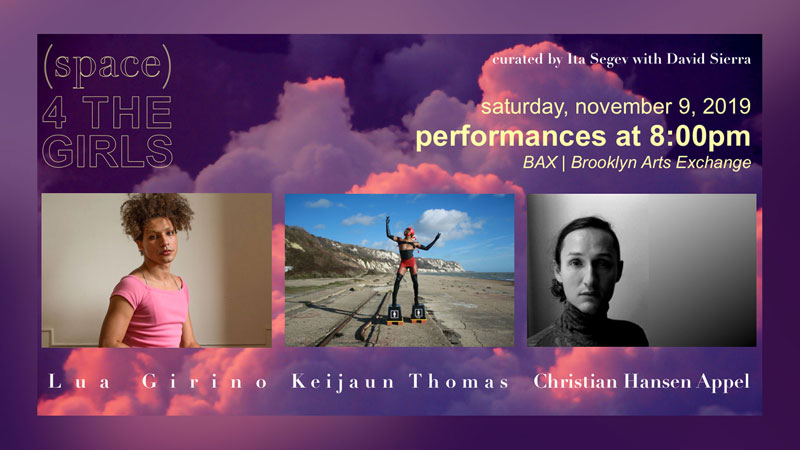 (space) 4 The Girls is a performance residency for trans women & femmes curated by Ita Segev (BAX AIR 2018-20) with David Sierra as part of the ARTISTS IN RESIDENCE AS CURATORS program which is part of BAX's Artists Activated series.
CURATORIAL STATEMENT

(space) 4 The Girls provided three artists with free rehearsal space, a small stipend, an in-progress public showing, the opportunity to create amongst other trans women & femmes, and free professional video documentation for future use in grant, residency, and fellowship applications. The program aims to be part of a larger movement to uplift the work of trans girls across a variety of personal herstories and sociopolitical contexts while addressing the fact that, currently, trans women & femmes as a whole are frighteningly absent as lead artists and makers within many of New York's performance & performing art communities —even in queer, trans, and non-binary spaces within those communities. Simultaneously the program hopes to create a space that alleviates participants from the burdens of representation in the often depleting and tokenizing discourse of current American identity politics and to enable them to imagine and create the ways they want to relate to themselves, one another, and their audiences. This program is dedicated to the immense labor, patience, education, compromise, and erasure that come from having to be 'the first' and 'the only' in any space while attempting to collapse that model of "inclusion."

Ita Segev, BAX AIR 2018-2020

NOTE: This series will ask the audience to move between performances and there will be a post-show reception downstairs. Performances are interactive and will contain: strong scents and invitiations to touch and be touched along with images and inquiry concerning violence toward animals, state, race, and gender-based violence.
Technical Director and Resident Lighting Designer: Kelindah Schuster
Stage Manager: David Sierra
In the Face of
Writer: Christian Hansen Appel
Performer: Christian Appel
Special Thanks to Ita, David, Kelindah, Lua, Keijuan, Lenni, and Shanti for your insight and support.
Can You Do Me A Favor: Payback's A Bitch
Performer: Keijaun Thomas

Work description: Can you do me a favor? Growing up asking for help meant not asking directly. Asking for help came in the form of I O U and favors to be paid back and returned. You never really know how to ask for help when you are in need. Your idea of need become wants and what you want you don't really need. You only know how to say what you can do, in return, how you can pay your debts. What service you can provide. How may I help u, today. No McDonald's. Sometimes we are conditioned from the jump and we don't even know it. Dragging bodies thru trenches. And U.O.E.N.O. As Soon As Possible. No rocky. They keep telling a us… May the odds be ever in your favor and all dat otha shit
WALL
Choreographer: Lua Girino
Composer/Sound Designer: solYchaski
Performer: Lua Girino
Special Thanks to Ted Weiland (cenographer), Joanna Evans, and David Sierra
ARTIST BIOS:
(In program order)
Christian Appel
Christian Hansen Appel is a queer, anarchist, non-binary trans femme arts activist and performance/theatre artist. They are a founder of The TransGenerational Theatre Project, a multigenerational applied theatre project for trans and gender non-conforming people. A graduate of the CUNY MA in Applied Theatre program, Christian works at the Edie Windsor SAGE Center as the Women's and Arts Program Coordinator. Their solo performance work has explored grief, rage, and ritual, as well as the intersection between whiteness and trans femininity. They have performed with Sacred Circle Theatre Company, Heels on Wheels, Musical Theatre Factory, and with Needing It at BAX.
Keijaun Thomas
Keijaun Thomas's (b. 1989) work in performance, multimedia installation, and poetry explores the labor of black femmes in situations ranging from housework and hairdressing to athletic training and exotic dancing. Her performances combine rhapsodic layers of live and recorded voice, and her poems slip between various modes of address, exploring the pleasures and pressures of dependency, care, and support. Thomas underscores the endurance and intimacy care work demands of those expected to perform it—predominantly black women, black femmes and people of color. Thomas is currently based in New York, NY.
Lua Girino
Lua is a Brazilian performance artist and scholar, and current PhD candidate at NYU's Performance Studies. They write along playing children, festive delinquency, transgender spirituality and insistent multiplicities. Their most recent performance work investigates the juxtaposition of borders that create individuated subjects and nation states.
Curator Bios
Ita Segev
Ita Segev makes performance, writes, performs, acts and does advocacy & community building work, mainly around the intersection of her personal and sociopolitical contexts as an anti-Zionist Israeli trans woman.

Ita was a 2019 Gibney Presents curated artist where she premiered her show Knot In My Name which was developed through a 2018-2020 Brooklyn Arts Exchange | BAX AIR program, a 2018 New York Theater workshop summer residency, a Fall 2017 BAX space grant as well as grants from Women & Performance: a journal of feminist theory and the Mertz Gilmore Foundation.

She has collaborated in different capacities with Tristan Powell, 600 HIGHWAYMEN, Shakina Nayfack, Lillieth Glimcher & RAD Pereira (You Are Here), J. Bouey, Georgia Wall and Juliana May (amongst many others). She's performed in venues such as The Public Theater, La MaMa, Danspace Project, MaSS MoCA, PACE Gallery, Woolly Mammoth, The Clark Art Institute, MESS Festival (Sarajevo), Noorderzon (The Netherlands), and has spoken at NYU and Columbia University.

Ita is invested in finding BDS friendly gender affirming hormone manufacturers through her collaboration with Daryn Copland, T4Palestine, and is eager to center more live performance work by trans women & femmes through a residency she recently founded called (Space) 4 the Girls.

You can read her essays and features about her life story, art, politics, and casual stunting on Them., Lenny Letter, OUT, Rookie, Brooklyn Rail, PROTOCOLS, and Unsettled Podcast. IG: @itaqt
David Sierra
David Sierra is a researcher, writer, and performance artist living and working in New York. Their academic work engages performance, contemporary art, feminist theory, and critical theory by way of transgender studies and medical humanities. Her artistic practice is concerned with embodied experiences of movement and sound in experimental performance, historical redress, procedural drama, horror, and medical technology. She holds a BA in English literature and gender studies from Columbia University and an MA in performance studies from New York University. david@bax.org