(Work In Progress Sharing)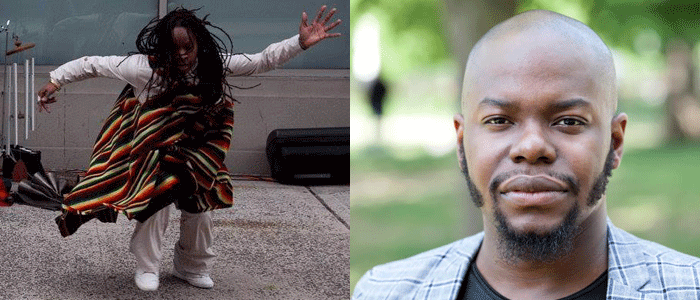 Co-curated by

Ni'Ja Whitson (BAX AIR 2015-2017)

and

Jaamil Olawale Kosoko

with

Tara Aisha Willis
Friday-Saturday | February 17-18, 2017 @ 8pm
Tickets: $10 suggested donation [BUY]
What kinds of knowledge production can Black contemporary improvisational practice reveal about body based technologies of care? How might this translate into a self-care strategy that articulates itself through writing, conversation, and performance? From the seeded idea that theory can be medicinal and healing, Jaamil Olawale Kosoko and Ni'Ja Whitson co-curate a series of theoretical systems, translated into actions performed by BAX AIR Ni'Ja Whitson. The artists write and embody ongoing applications of ritual, self-care, thinking, speaking, action planning, witnessing, and sharing. In an attempt to centralize curation as an act of radical care giving, Kosoko and Whitson will present a final exhibition that exists on, within, and around the site of the body.  To add scholarship, dramaturge, and the critical importance of documenting the self alive, the co-curators collaborate with Tara Aisha Willis to reimagine "archival" methodologies.
Artist Bios
Jaamil Olawale Kosoko, originally from Detroit, MI, is a Nigerian American curator, producer, poet, choreographer, and performance artist currently based between Philadelphia and New York City. He is a 2012 Live Arts Brewery Fellow as part of the Philadelphia Live Arts Festival, 2011 Fellow of the DeVos Institute of Art Management at the John F. Kennedy Center for the Performing Arts and an inaugural graduating member of the Institute for Curatorial Practice in Performance (ICPP) at Wesleyan University.
He has held producing and curatorial positions at New York Live Arts, 651 Arts, and The Watermill Center. His work in performance practice is rooted in a creative mission to push history forward through writing and socio-political art making. Kosoko's work in live performance has received support from The Pew Center for Arts and Heritage through Dance Advance, The Philadelphia Cultural Management Initiative, The Joyce Theater Foundation, and The Philadelphia Cultural Fund.
Ni'Ja Whitson (MFA), an award-winning interdisciplinary artist, performer and writer, engages a nexus of postmodern and African Diasporic performance practices, intersecting gender, sexuality, race, and spirit.  Recent awards include a 2017 Hedgebrook Residency, 2016 LMCC Process Space Residency, 2015 Bogliasco Fellowship, 2015-2017 Brooklyn Arts Exchange Artist Residency, two-time Creative Capital "On Our Radar" award including being among its inaugural group. Whitson collaborates with notables in experimental and conventional theatre, dance, visual art, and music including closely with Douglas Ewart of the AACM, and other leaders such as Charlotte Brathwaite, Sharon Bridgforth, Dianne McIntyre, Regina Taylor, Oliver Lake, Edward Wilkerson Jr., Marjani Forté-Saunders, Baba Israel, and Daniel Alexander Jones.  Whitson's current interdisciplinary evening work, A Meditation on Tongues, previewed to sold out New York audiences and world premieres at American Realness 2017. They are currently onfaculty at the New School for Liberal Arts and is founder/artistic director of The NWA Project.
Tara Aisha Willis is a dance artist and PhD candidate in Performance Studies at NYU. A member of the Women & Performance's Editorial Board and currently their Performance Reviews Editor, she has served as Co-Managing Editor of TDR, and co-edited a special issue of The Black Scholar with Thomas F. DeFrantz entitled "Black Moves: New Research in Black Dance Studies." In addition to her own written contributions to those academic journals, Tara's writing and interviews also appear in Movement Research Performance Journal, The Brooklyn Rail, and Magazin im August. As Movement Research's Program Advisor, she coordinates and advises on diversity initiatives, including the Artist of Color Council, and programs the Studies Project discursive series. Her own choreography has been shown at Movement Research at Judson Church, BAX/Brooklyn Arts Exchange, Roulette, THROW, Dixon Place, The Painting Center, AUNTS, the CURRENT SESSIONS, and CPR. She was a 2009 Dance Theater Workshop Van Lier Fellow, a 2015 Mellon Dance Studies Summer Seminar participant, and a 2016 Chez Bushwick Artist in Residence. She is currently dancing in forthcoming projects with Ivy Baldwin, Kim Brandt, Yanira Castro, and Will Rawls.