Curated by

Paloma McGregor
Featuring work by the 2016/17 Dancing While Black Fellows 
Friday
Kesha McKey
Melanie Greene
Katrina Reid
Brittany Williams
Saturday
Kesha McKey
Jaimé Dzandu
Maritza Mercado-Narcisse
Joya Powell – Movement of the People Dance Company
Friday-Saturday, March 31 – April 1, 2017 | 8pm
Tickets: $16 – General, $10 – Low Income [BUY]
Witness experiments, early constructions and visions in progress from the 2016-17 Dancing While Black Fellowship class. These seven emerging artists from New York City and New Orleans have spent the past six months building community through workshops with master teachers, communal dinners and a public discussion at BAX. The Fellowship, a program of Angela's Pulse, is part of Dancing While Black founder Paloma McGregor's ongoing commitment to community building and centering the voices and visions of black dance makers.
Artist Bios
Jaimé Dzandu is a movement artist, choreographer, educator and community arts practitioner from Hampton, VA. Daughter of Patricia Dzandu and James Dzandu. She creates participatory art-based experiences, rooted in an African Diasporic movement practice. Her ritual choreographic work reflects the sacred in performance and investigates, nature, black womanhood, justice, healing, peace building and transformation. Jaime's work has been presented in various spaces including Bushwick Starr,The National Black Theatre,The Contemporary Arts Center New Orleans and Mahalia Jackson Theatre of Performing Arts. As an artist and educator she holds space for young movers, facilitating a learning environment of self discovery and self empowerment through dance for the past ten years. She is committed to the wellness of women and girls of color. Jaimé holds a B.F.A in Dance & Choreography from Virginia Commonwealth University and resides in Brooklyn, NY. She bows in gratitude to all that guide her along her journey.
Melanie Greene is a movement-based artist taking on the world through a curious lens. She is no stranger to swirling along the edges of the impossible and swimming within the sea of the minority. Her work weaves a tapestry reflection and obsession. She has presented work at New York Live Arts, Dixon Place, Movement Research at Judson Church, Brooklyn Arts Exchange's Upstart Festival, WOW Cafe, and Bronx Academy of Arts and Dance (BAAD). She is a proud alumna of EmergeNYC at the Hemispheric Institute for art and activism at NYU, and recipient of the 2015 Gibney Dance boo-koo Space Grant, 2015/16 New York Live Arts Fresh Tracks residency, and 2016 Actors Fund Summer Push Grant. Greene is a contributing writer for The Dance Enthusiast and an excited 2016/17 Dancing While Black Fellow. When not immersed in all things dance, Greene is an avid crocheter, candy eater, fiction reader. Stay tuned.  www.methodsofperception.com
Kesha McKey is a choreographer, educator and performing artist in New Orleans. After graduating from NOCCA she received her BS from Xavier University of LA and her MFA in Dance Performance from the University of Wisconsin-Milwaukee. She is the Artistic Director of KM Dance Project presenting choreographic works for the 2016 Peridance Capezio Center APAP Showcase, the Courageous Conversations Summit and the Dance for Social Change Festival. Kesha was a 2015 The Distillery artist in residence at the Contemporary Arts Center and a scholarship recipient of the 2016 Jacob's Pillow Improv Traditions and Innovation. She has had the honor to work closely with artists of Junebug Productions, Urban Bush Women, and the Lula Elzy Dance Theatre. She has served as a faculty member of the Urban Bush Women SLI, and is currently a dance educator at NOCCA and Program Coordinator of the Kuumba Institute at Ashé Cultural Arts Center.
Maritza Mercado-Narcisse has been a New Orleans based artist since 1988. She has performed her work on the Jacob's Pillow Inside/Out stage, the Kennedy Center Millennium Stage, and at the Piccolo Spoleto Festival. She is a Louisiana Division of the Arts Fellow and has been a resident artist at Dancing Grounds, the Contemporary Arts Center and the Acadiana Center for the Arts in Lafayette. This past year she was hired to choreograph for the History Channel remake of ROOTS. Maritza was a participant and faculty member with the Urban Bush Women's Summer Leadership Institute held in New Orleans, a relationship that has fostered her ongoing exploration of the intersection between art and activism. She is currently on the dance faculty at Isidore Newman School while also leading her fledgling company, the Narcisse|Movement Project. Maritza's a proud mama to Tyger and Mateo with her partner J Hammons.
A native Harlemite, Joya Powell is a Choreographer and Educator passionate about community, activism, and dances of the African Diaspora. She is the 2016 recipient of The Outstanding Emerging Choreographer Bessie Award. In 2005 Joya founded Movement of the People Dance Company, dedicated to community and social awareness through Socially Conscious Dance Theater Choreography. Her work has been performed in national and international venues such as: BAM's Howard Gilman Opera House, Lincoln Center, SummerStage, FLICfest (AIR 2016), Casita Maria (AIR 2015), Symphony Space, The Bronx Museum of Arts, The Bronx Academy of Arts and Dance (BAAD!), among others. Joya has been a Guest Artist at various colleges, conferences and festivals; she has taught and studied internationally in Brazil, Puerto Rico, Cuba, and Israel. She is a member of the Artistic Resource Group for The FLEA Theater and Dance Caribbean Collective. She received her M.A. in Dance Education from NYU, and her B.A. in Latin American Studies and Creative Writing from Columbia University.
Katrina Reid is a performing artist, currently interested in creating physical landscapes from writing. Most recently, her work has been presented at the Current Sessions, Gibney Dance's Double Plus series, Cocoon Theatre, Studio 26 Gallery, and BMCC Tribeca Performing Arts Center. She's also in collaboration with a range of artists who are exploring performance at the center and edges of dance, theater, and ritual. Grateful~
Brittany Williams is an international artist who has worked and traveled in the Caribbean, South America, and Europe. Originally from "Exit 1," Florida City, Florida -southerly located on the outskirts of Miami. Brittany is a cohort of black women artists of Dancing While Black Dancing on Fertile Ground, director, Paloma McGregor, where she co-choreographed and performed a duet titled Womb Truth, with the sistar-friend, Jamié Dzandu in New Orleans. She is the recipient of a 2016 Brooklyn Arts Exchange Fall Space Grant in Brooklyn New York.
About the Curator
PALOMA MCGREGOR (Director, Angela's Pulse/Dancing While Black)
Paloma McGregor is a New York-based, Caribbean-born choreographer whose work focuses on centering Black voices through collaborative, process-based art-making, teaching and organizing. A deeply rooted practitioner of intersectionality, she creates projects in which communities of geography, practice and values can vision their roles in enacting a more equitable and joyful future. She has worked with grandparents, children, environmental educators, academics and other artists to create a wide range of work, including a dance through a makeshift fishnet on a Brooklyn rooftop, a structured improvisation for a floating platform in the Bronx River and a devised a multidisciplinary performance work about food justice with three dozen community members and students at UC Berkeley. Residencies include: 2016-17 NYLA Live Feed; 2014-16 BAX Artist in Residence; 2014 LMCC Process Space; 2013-14 NYU's Hemispheric Institute of Performance and Politics Artist in Residence; 2013 Wave Hill Winter Workspace; Grants include: 2015 Surdna Foundation, Dance/USA; 2016 MAP Fund.
Angela's Pulse Team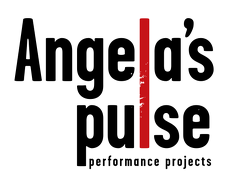 Paloma McGregor, Co-Founder & Director
Marýa Wethers, Project Manager
PURPOSE Productions, Marketing Consultant
angelaspulse.org
Angela's Pulse creates and produces collaborative performance work dedicated to building community and illuminating bold, new stories. We provide a home for interdisciplinary collaborations that thrive on both politics and play, and we are committed to developing timely performance works that provoke, inform and inspire. Co-founded by Paloma and Patricia McGregor, Angela's Pulse was named for their mother Angela, an artist, teacher and activist who continues to inspire their work.
Dancing While Black
Dancing While Black is an artist-led initiative that supports the diverse work of Black dance artists by cultivating platforms for process, performance, dialogue and documentation. We bring the voices of black dance artists from the periphery to the center, providing opportunities to self-determine the languages and lenses that define their work.
Dancing While Black operates at the intersection of aesthetics and organizing. Central to the work is building partnerships – with presenters, organizers, curators and artists. Since 2012, Dancing While Black has established ongoing partnerships with Bronx Academy of Arts and Dance, NYU's Hemispheric Institute of Performance and Politics, Human Rights Project at the Urban Justice Center, Purpose Productions and Urban Bush Women.
Our partnerships are rooted in a mutual commitment to equity and serving the needs and visions of artists. In a field that encourages individualism, our work prioritizes community building. We celebrate that there is a momentum building around shifting the dance landscape, and we are committed to help shepherd these efforts. Our commitment to equity requires our solidarity with others who are also doing the work.
Funding
Dancing While Black receives funding from the Surdna Foundation and the Lambent Foundation Fund of Tides Foundation through Brooklyn Arts Exchange. The Surdna Foundation seeks to foster sustainable communities in the United States — communities guided by principles of social justice and distinguished by healthy environments, strong local economies, and thriving cultures. Learn more at www.surdna.org. Support for the Lambent Foundation Fund of Tides Foundation through Brooklyn Arts Exchange is provided by public funds from New York State Council on the Arts with support of Governor Andrew M. Cuomo and the New York State Legislature, New York City Department of Cultural Affairs, in partnership with the City Council, as well as the Mertz-Gilmore Foundation and the Scherman Foundation.