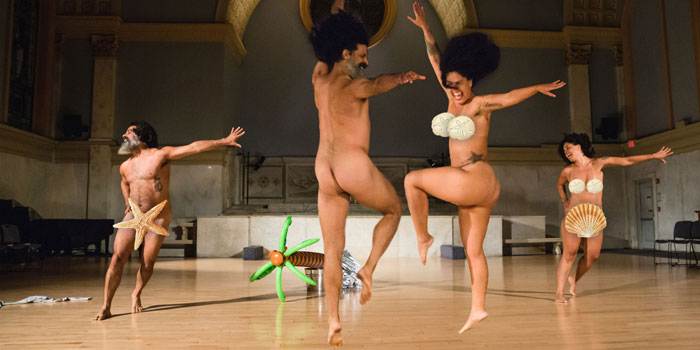 El Pueblo de los Olvidados (The Village of the Forgotten)
by 2018/2020 BAX Artist In Residence Antonio Ramos
Friday & Saturday
June 14th & 15th at 8:00 pm
Choreographer/Artistic Director: Antonio Ramos
Writer: Ivan Talijančić
Projections: Alex Romania
Audio Design: Sarah White-Ayóna
Performers/ Collaborators: Angie Pittman, Awilda Rodriguez Lora, Antonio Ramos, Saúl Ulerio, Sarah White-Ayón
El Pueblo de los Olvidados (The Village of the Forgotten) is a performance in the genre of science-fiction, prompted by my research about Puerto Rico in the wake of natural disaster — Hurricane Maria. The narrative of this work sees the protagonist, Tony Tacon, returning to his native planet to discover the metamorphosis of the land and his gender, attacked and altered by a different breed. Almost as if under a moribund spell, the entire country appears to have been devastated after years of suffering under the colonization by the alien species, FIMA. Unbeknownst to the native population, the purpose of this invasion was to turn the native people, Tainos, into Barikas (wordplay between denigrating term for gays, "Marica", and the indigenous name of the island of Puerto Rico,) ultimately transforming the nation into an intergalactic tropical resort. Beyond being repurposed as a spot for resting and rejuvenation, Puerto Rico hosts a base for a top-secret laboratory where the invaders develop a powerful new weapon that has the ability to extract water from other planets, leaving devastating droughts in its wake. FIMA's efforts further complicate matters as they plant invasive species to take over the nation by destroying its natural habitat. The infusion of alien flora and fauna gives rise to a new, diverse, trans-sexual species with multiple mammaries and sexual organs. In this new environment, Tony Tacon has no choice but to leave his glorious glitter shell and reinvent themselves with Nature.
The appeal of the exotic new land spreads to other planets. Unfortunately, the new Puerto Rico remains undetectable on navigation systems, due to FEMA's supremacy spell which envelops the island in impossibly thick fog – so thick, that incoming vessels, including rescue ships, enter the cloud and forever disappear within. In the midst of all the hardship, a ray of light emerges as Tony Tacon discovers a secret weapon under his rapidly growing cloud of hair, that helps the native people understand the spell they had fallen into.
The construct of this newly devised work is allegorical, referencing the gringo invasion of my native land, and the diasporic dilemma of existing as an artist outside of the island. El Pueblo de los Olvidados explores themes of colonization, its power, and the rampant abuse of it.
For more information on Antonio Ramos visit artistservices.bax.org/antonio Ramos