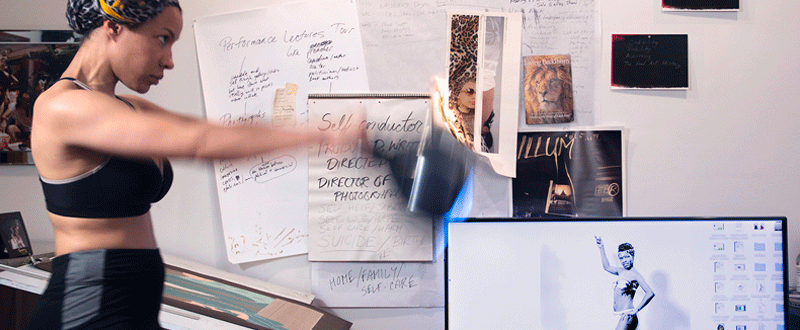 March 3, 2017 @ 7:30pm
Curated by

Marissa Perel

(2015/17 BAX Artist In Residence)
Featuring work by
Switch
Choreographed and Performed by Jumatatu Poe
Tect Heart
Performed by Lyric Hunter, Sadé LaNay, and Geoffrey Olsen
Christy Gibson
Written and Performed by  Jai Arun Ravine
"Fan Christy" (Cover) [Karaoke MV]" video and "Christy Gibson" text from "The Romance of Siam" (Timeless, Infinite Light 2016)
RED
Performed by Rashayla Marie Brown
Oceanic End: just death
Dancing by iele paloumpis
Live Vocalization by Joanna Groom, April Herms, CJ Holm, Monica Rodriguez, and  Jules Skloot
Some of the movement material and phrase work for Oceanic End: just death was made in collaboration with Jai Arun Ravine and Marýa Wethers. The recorded sound score was edited by iele paloumpis with vocalization by Eric Linsker and Adrien Weibgen.
Deep gratitude to everyone who has had a hand in the many iterations of this project, including Wo Chan, Tamara Davidson, Meghan Frederick, Joanna Groom, April Herms, CJ Holm, Eric Linsker, HaQuyen Pham, Jai Arun Ravine, Monica Rodriguez, Jules Skloot, Cassie Wagler, Adrien Weibgen, and Marýa Wethers. Thanks also to Marissa Perel and Brooklyn Arts Exchange for the opportunity to share this work in progress.
About the Artists & Work
Rashayla Marie Brown
ABOUT THE WORK: The performance will contain presentations of images, reading of texts, live drawings, and other forms of inadequate representation, all about the meaning of red. The artist is red in many ways, and she has read many things.
Rashayla Marie Brown manages a living studio practice across photography, video, performance, and theoretical writings infused with subjectivity and spirituality. A lifelong nomad who has moved 25 times, her journey as a professional artist began as a radio DJ and poet performing research in London, England. Her work has been commissioned by the Museum of Contemporary Art, Chicago; Museum of Contemporary Photography, Chicago; and has shown at the Gene Siskel Film Center, Chicago; Monique Meloche Gallery, Chicago; INVISIBLE-EXPORTS, New York; University of Pennsylvania, Philadelphia; Museum of the African Diaspora, San Francisco; Centro Cultural Norteamericano, San Jose, Costa Rica; and other venues. Brown's work and words have been featured in Art Forum, Blouin Modern Painters, Hyperallergic, Nka: Journal of Contemporary African Art, and the Radical Presence catalog. Brown holds degrees from Yale University and the School of the Art Institute of Chicago, advised by Paul Gilroy and Barbara DeGenevieve respectively.
Lyric Hunter, Sadé LaNay, and Geoffrey Olsen
ABOUT THE WORK: "Tect Heart", a ritual set to choral poem and movement, intends to unweave the threads of cruelty from care, filtering out past traumas and allowing dreams of new tenderness from the heart outward. Poets Lyric Hunter, Sadé Murphy and Geoffrey Olsen search for a means of a collaborative care through this condensed ritual. The performance will seek to find where the body makes its own language, where we do the work of holding pain and care in the body.
Lyric Hunter is a writer from New York City. Her two chapbooks Swallower (Ugly Duckling Presse, 2014) and Motherwort (Guillotine Press, 2017) explore language plasticity, trauma, and healing.
Sadé LaNay is a poet and artist from Houston, TX living in Bed-Stuy. Sade is the author of Dream Machine (co-im-press, 2014) and self portrait (Birds of Lace, forthcoming) with poems
Geoffrey Olsen is the author of two chapbooks: End Notebook (Petrichord Books) and Not of Distends * Address Panicked (Minutes Books). He lives in Bed-Stuy, Brookyln.
iele paloumpis
ABOUT THE WORK: Oceanic End: just death is a part of a larger project which explores liminality as a site for expansion, liberation and the unknown. On a sociopolitical level, these explorations are meant to make room for complexity. As a queer, trans, dance artist and death doula living with invisible disabilities, there are many reasons I feel pulled toward liminal spaces as sites of trauma, healing, loss, evolution, uprising, spirituality, and things we can't name. There's room for growth and transformation, which is why I make work. Other themes include death, afterlife, collective consciousness and catharsis. In the face of our current political moment this next iteration of Oceanic End: just death is a solo that particularly delves into isolation, suppression, subliminal messaging, queer code, and connection.
iele paloumpis is a dance artist, educator, intuitive healer, and death doula. their healing work is rooted in kinesthetic awareness, Tarot, herbal medicine, and some astrological know-how – all within a trauma-informed framework that centers social justice. Choreographic works have been shown through Brooklyn Arts Exchange, New York Live Arts, Danspace, Dixon Place, the Flea Theater, Movement Research, Painted Bride Art Center, Franklin Street Works, and Taubman Arts. they've danced for niv Acosta, devynn emory, Jaamil Olawale Kosoko, Jen McGinn, Katy Pyle, Emily Wexler, and Nina Winthrop. iele received a BA from Hollins University in 2006 and was awarded end of life doula certifications from Mount Sinai, Valley Hospice, and Deanna Cochran's Accompanying the Dying Program between 2014-16. iele has studied Tarot since 1996, most recently under Eva Yaa Asantewaa's mentorship. iele currently offers classes through Movement Research's Physical Inquiry and Somatic Practices series. For more information visit: www.ielepaloumpis.com
Joanna Groom (choir member) A lifelong singer, Joanna performs regularly at the Jalopy theater with their in-house chorus and recently had the great honor of performing in the world premiere of Pulitzer Prize winner David Lang's the public domain at Lincoln Center.  Joanna is thrilled to continue her collaboration with iele paloumpis!
April Herms (choir member) has been involved with social justice-related choral and singing endeavors since she was a child, beginning with the Peace Child children's chorus in Santa Cruz, California in the early 1990s. She believes strongly in the power of music and performance to heal and transform communities, and is honored to be a part of the musical dimension of Oceanic End: just death.
CJ Holm (choir member) is a performer, maker, and teacher in New York City. CJ choreographs as Creature Theater, and (in collaboration with Krista Jansen) as Jansen and Holm. CJ is a secret musical theater nerd, a capella alum, and karaoke shark, and is currently looking for more opportunities to sing in public. Thanks to iele for this gift.
Monica Rodriguez (choir member) is a queer musician, composer, and audio engineer. She is a graduate of the Sonic Arts Center at The City College of New York with a BFA in Music and Audio Technology. Her musical training is steeped in western classical tradition with compositional influences ranging from 16th century counterpoint to 20th century atonalism. Her musical journey began at Nassau Community College where she studied vocal performance and first experienced singing with ensembles. Singing in choirs and groups has been instrumental to her growth as an artist and a person. Sharing in iele's art has been a meaningful extension of this growth. Currently Monica is spending time developing as a composer and sound mixer for film. Recent projects include a collaborative rescoring of Hans Richter's 1926 silent film Filmstudie and composition and post production sound for the indie short Blue Violet. You can keep in touch and follow her work via Twitter @MTNoise.
Jules Skloot (choir member) is a dancer, performance maker, and teacher based in Brooklyn, N.Y. who frequently collaborates and performs with Katy Pyle and the Ballez. Jules has presented his own work most recently at BAX through the Space Grant program and at Dixon Place through the HOT festival.
Jumatatu Poe
ABOUT THE WORK: "Switch" is a new solo being created and performed by choreographer Jumatatu Poe. Switch develops from Jumatatu's improvisation practice – The Switching – in which Jumatatu obsesses over the question: "Can I change myself?"
Jumatatu M. Poe is a choreographer and performer based between Philadelphia and New York City who grew up dancing around the living room and at parties with siblings and cousins. After early exposure to African dance and capoeira, Poe started formal dance training in college with Umfundalai, Kariamu Welsh's contemporary African dance technique. Poe's work is influenced by that early exposure to various traditions, continued study of contemporary dance and performance as well as recent sociological research of and technical training in J-Setting with Donte Beacham. Poe produces dance and performance work with idiosynCrazy productions, a company Poe founded in 2008 and now co-directs with Shannon Murphy.
Poe is an Assistant Professor at Dance at Swarthmore College who has danced with Marianela Boán, Silvana Cardell, Tania Isaac, Marissa Perel, Reggie Wilson, and Kariamu Welsh (as a member of Kariamu & Company), among others.
Jai Arun Ravine
ABOUT THE WORK: "Christy Gibson" is a text and video performance excerpted from Jai Arun Ravine's book, "The Romance of Siam." Gibson is a Dutch singer of traditional Thai music. Ravine questions her access to and mastery of Thai culture and language when so many Thais in the diaspora lack the same access.
Jai Arun Ravine is a writer, dancer and dance writer currently based in Philadelphia. As a mixed race, mixed gender and mixed genre artist, their work arises from the simultaneity of text and body and takes the form of video, performance, comics and handmade books. Ravine's first full-length book แล้ว AND THEN ENTWINE: LESSON PLANS, POEMS, KNOTS (Tinfish Press 2011) re-imagines immigration history and attempts to transform cultural inheritances of silence. Their short film TOM/TRANS/THAI (2011) approaches the silence around female-to-male (FTM) transgender identity in the Thai context and has screened internationally. Their second book THE ROMANCE OF SIAM: A POCKET GUIDE (Timeless, Infinite Light 2016) is a subverted travel guide that consumes and regurgitates Orientalism, the tourist archive and white desire. Learn more at jaiarunravine.com
About the Curator
Marissa Perel is an artist and writer based in New York. Her interdisciplinary work includes performance, installation, criticism and curatorial projects. She often uses collaboration as a platform for the exchange of disciplines, working methods and discourses with choreographers, composers and visual artists. She is interested in drawing from the polemics of identity and representation to create compositional models for performance and installation. She orchestrates an immersive world where text, objects, dance and video transmit experiences of personal and societal conflicts. Her materials are cathected objects, cues that connect an immediate physical and psychic state to past events. Her work has been shown at numerous galleries, theaters and performance spaces in the U.S. and abroad.
Perel asks, "How do we move across space and time with respect to our collected histories?" Her essays, reviews, experimental prose and interviews engage this question at the convergence of the fields of contemporary art and performance. She originated the column, "Gimme Shelter: Performance Now" for Art21 Magazine and edited Critical Correspondence, the on-line dance and performance journal of Movement Research. She also pursues this question in her curatorial work, seeking to bring visibility to a multitude of forms and discourses. She has curated performances, panels and talks at such venues as the New Museum, New York Live Arts and at the Aux Performance Space at Vox Populi where she served as Curatorial Fellow. Perel is currently an AIR at the SHIFT program at the Elizabeth Foundation for the Arts as well as at Brooklyn Arts Exchange.