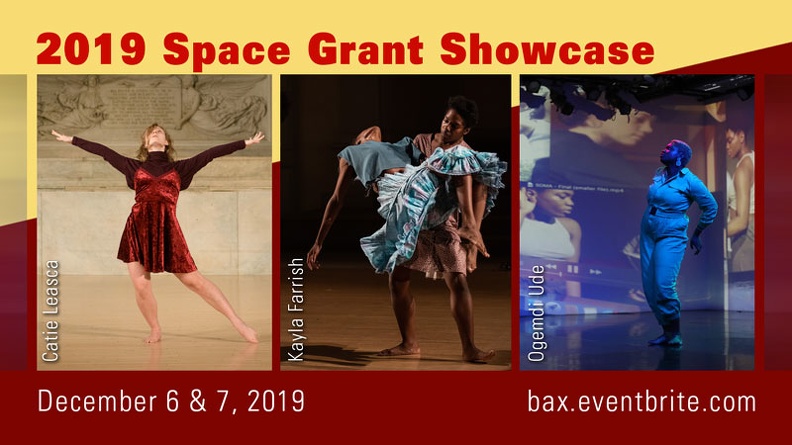 Featuring works-in-progress by 2019/2020 Space Grant recipients Catie Leasca, Kayla Farrish, and Ogemdi Ude.
The Space Grant program gives NYC-based dance, theater and performance artists the opportunity to create new work or build upon existing work in a setting that is conducive to working deeply and exploring new territory.
ACCESS ADVISORY: The Main Event by Catie Leasca will 1. utilize scents from air fresheners in performance and 2. include durations of colorful lights flashing in quick succession.
The Main Event
Maker + Performer: Catie Leasca
Sound: Annie Lennox, P!nk, Oh Wonder, DJ Snake + Lil Jon
The Main Event is an extravaganza featuring party favors, early 2000's hits and special guest appearances by the perplexed, ponderous, and preposterous personalities inside the performer.
The Main Event was created with support from Gibney, with funds provided by the Howard Gilman Foundation. This work was also created, in part, with a space grant from BAX/Brooklyn Arts Exchange with support from the New York State Council on the Arts, the NYC Department of Cultural Affairs, the Jerome Foundation, and the Howard Gilman foundation.
A huge, special thank you to BAX for allowing me to create a home in your studios… and, as always, the sweetest thank you to Sophie for supporting me throughout it all!
With grit From, Grace
(apart of the The New Frontier (my dear America) pt. Premiere at Danspace October 2019)
Director/Choreographer: Kayla Farrish
Performers: Dorchel Haqq, Emilee Harney, and Mikaila Ware (not performing in excerpt: Kayla Farrish, Kerime Konur, and Kar'mel)
Small Writers: Mikaila Ware and Kayla Farrish
Sound Editing: Kayla Farrish with some collaboration with Dorchel Haqq
Music: Nina Simone, Mille, MikeQ, Spank Rock, Kanye West, and Emptyset
Costume Consultation and Support in Danspace Production: Athena Kokoronis
With grit From, Grace is an ode to finding grip and power within our bodies. It is an ode to our ancestry and speaking forward to how the limits of woman identifying people can rebel and claim.
This work was initially created in February 2018 with Dominica Greene and Kayla Farrish.
The piece expanded during Summer 2019, and was apart of The New Frontier (my dear America) pt. 1 Danspace premiere.
Funding Credits: Danspace Fall Commission, BAX Summer Space Grant, Petronio Residency Center, and NYS Dance Force
Special thanks to my incredible collaborators and how you all have given your full heart, spirit, and shared your stories through this work. Your efforts are visceral and powerful. Special thanks to BAX, Danspace, and Petronio Residency Dance Center/NYS Dance Force for supporting my creation and believing in my work. This was how I was able to afford a creative process with all of my collaborators in the room throughout- and it created a storm of work!!
Nothing like that is ever going to happen to me again (but if it does, at least now I have tools)
Created and performed by Ogemdi Ude
For Emma, Daniel, and Ian — my eights, tens, and thirteens.
Funding Credit: BAX Fall Space Grant 2019
Special thanks to BAX for the holistic support it took to bring this piece out of me; and to Gibney and their ShowDown Series for giving me a venue to share this work's beginnings.
ARTIST BIOS
Catie Leasca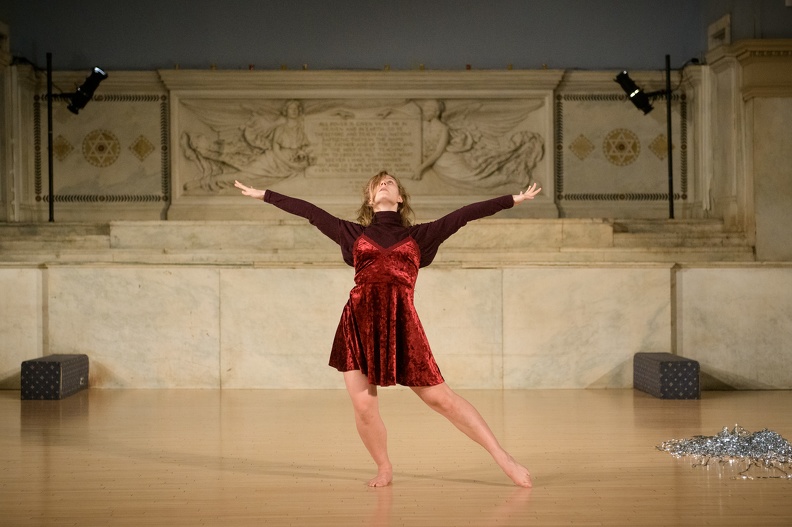 Catie Leasca is a dance artist currently based in Brooklyn, NY. With roots in Massachusetts, she has traveled and danced abroad in Israel, France, Belgium, and Germany. Catie has presented her work at Gibney Dance as a Work Up 5.0 artist, Brooklyn Arts Exchange as an Upstart artist, CPR as part of UArts/Chez Bushwick Creative Exchange, Movement Research through Judson Church, Dixon Place and STUDIO4. She has worked professionally with Netta Yerushalmy, Helen Simoneau Danse, Jessie Young, Mary Grace + Artists, and Bryn Cohn + Artists. She is a Brooklyn Arts Exchange 2019 Summer Space Grant Recipient and a LiftOff Resident Artist at New Dance Alliance. Catie graduated with her B.F.A. in Dance from the University of the Arts in May, 2017. www.catieleasca.com
Kayla Farrish/Decent Structure Arts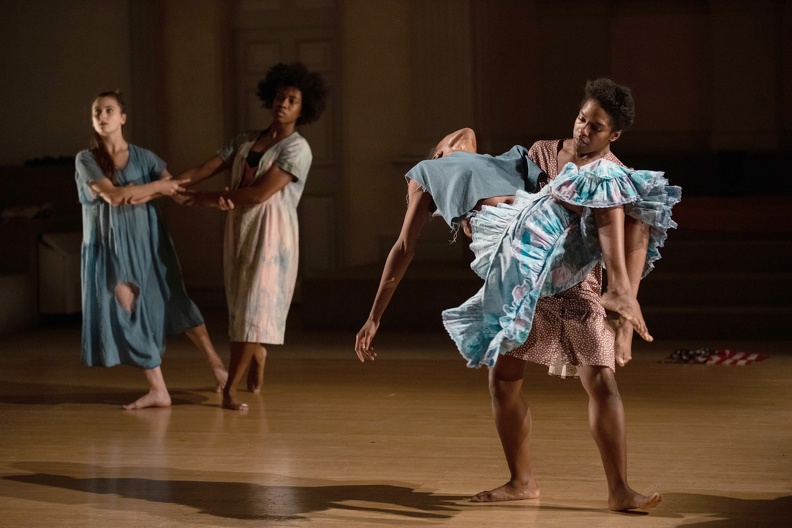 Kayla Farrish/Decent Structure Arts is an emerging company combining filmmaking, photography, and dance. She's received three choreographic commissions: Of Bones Dance (2014) and Houses on the Moon Theater Company (2016), and Danspace (2019). She co-choreographed Gods and Accepting Darkness with Nik Owens (2015). Studying photography and film with Yara Travesio, Benjamin Heller, and Brooklyn Central, she created Beloved Loveless portraits, premiered With Delicacy and Permanence interdisciplinary solo, and formed 5 short films through Chez Bushwick Residency in 2017.

In 2018, she developed live works: Wager/With grit From, Grace, Black Bodies Sonata, and Why I Can't Hold Strangers performing at Judson Church, Danspace, BAAD!, and other spaces. She produced Spectacle Film and Live Performance evening length work through Pepatian DYF Residency. In 2019, she is creating The New Frontier Film and (My Dear America) pt.1 live work through Keshet MSE program, BAX Summer Space Grant, Petronio Residency Center, and Danspace Fall 2019 Commiszion. Following, Farrish will share excerpts at BAX Fall Space Grant Showcase December 2019 and Belinda McGuire's OFFSET Dance Festival in January 2020. She looks forward to the new upcoming creation through Gibney's New Voices: Spotlight Commission in March 2020!
Kayla Farrish/Decent Structure Arts Collaborators:

Dorchel Haqq (Collaborator, Text)
Dorchel Haqq raised in Harlem, New York began her dance training at Dance Theater of Harlem. Haqq went on to dance at Fiorello H. LaGuardia High School of Music And Art & Performing Arts, and then later studied at the Conservatory of Dance at Purchase College SUNY with a minor in arts management, where she selected as a recipient of an Adopt-A-Dancer Scholarship. While at Purchase College SUNY, Haqq studied abroad at the Korea National University of the Arts. Haqq has performed works by Ohad Naharin, Johannes Wieland, Maxine Doyle, among others. Haqq has studied at Alonzo King Lines Ballet, B12, Doug Varone & Dancers, Sidi Larbi Eastman, and Springboard Danse Montreal under the direction of Alexandra Wells. Haqq is currently a freelance artist in NYC.

Emilee Harney (Collaborator)
Hailing from North Carolina, Emilee Harney found a love for dance at a very young age. In 2018 she received her BFA from the University of North Carolina School of the Arts (UNCSA) and later that year moved to New York to continue pursuing her passion. Emilee is now a Brooklyn resident thriving as a freelance dancer and creator. During her time at UNCSA she worked closely with or learned works by renowned artists such as Shen Wei, Robyn Mineko Williams, Azsure Barton and many more. In addition to UNCSA, Emilee has received training through workshops with Sidra Bell, Bobbi Jene Smith, Shamel Pitts, LeeSaar, Peter Chu, and Johannes Wieland. After moving to New York she began an apprenticeship with Mari Meade Dance Collective while also taking part of projects and dancing for artists such as Omri Drumlevich, Ashley Lindsey, and currently Kayla Farrish. Along with creating dance for film, she has also presented her own live work at event venue, The Baumann. Emilee is thankful to do what she loves and is excited to continue creating and performing in NYC.

Mikaila Ware (Collaborator, Text)
Mikaila Ware (Oklahoma Native) was raised in Georgia, by way of Louisiana and Virginia. She received training from Price Performing Arts Center and Dekalb School of the Arts in Atlanta, Georgia. Upon receiving her B.F.A in Dance from Florida State University, Mikaila moved to New York and has worked as a freelance movement artist with choreographers and producers such as Gwen Welliver, André Zachery/Renegade Performance Group, Johnnie Cruise Mercer/TheREDprojectNYC, and Monticello Park Productions. Mikaila has presented choreography for dance theater work "Piece by Piece" (written/performed by Rebeccah Bogue and directed by James Blaszko) at Dixon Place at a time of learning practices for collaborating inside physically integrated dance spaces. Along with being a movement artist, Mikaila has worked administratively by completing the Diversity in Arts Leadership program with the Arts and Business Council of New York and the Accessibility Partnerships and Programs Fellowship at Lincoln Center for the Performing Arts. Currently, Mikaila is a company member of Urban Bush Women and Davalois Fearon Dance.
Ogemdi Ude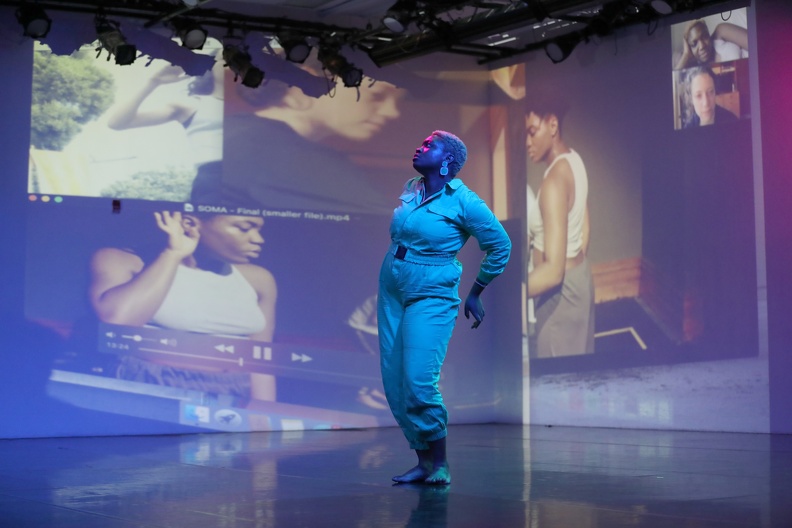 Ogemdi Ude is a Nigerian-American dance artist, educator, and doula based in Harlem. Her work has been presented at Danspace Project, Gibney, Center for Performance Research, Movement Research at the Judson Church, Streb Lab for Action Mechanics, Lewis Center for the Arts, and for BAM's DanceAfrica festival. She is a 2019-2020 Center for Ballet and the Arts at NYU Resident Fellow and 2019 BAX Space Grantee. She currently serves as Head of Movement for Drama at Professional Performing Arts School in Manhattan. She graduated Magna Cum Laude with a BA in English, Dance, and Theater from Princeton University.