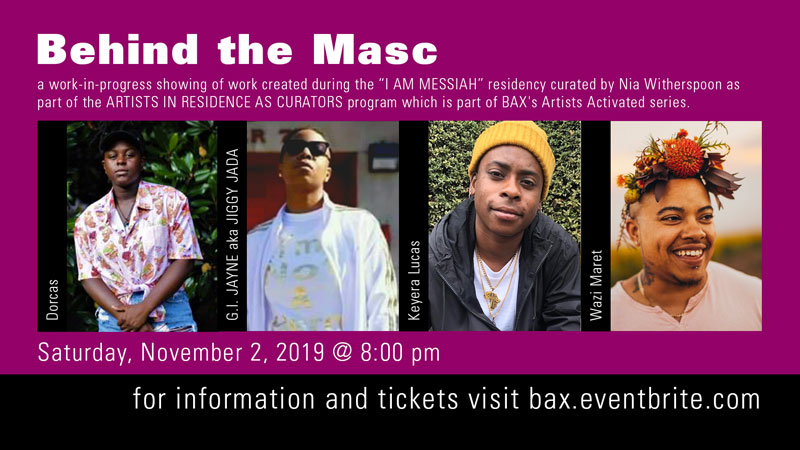 "Behind the Masc" a work-in-progress showing of work created during the "I AM MESSIAH" residency curated by Nia Witherspoon (BAX AIR 2018-20) as part of the ARTISTS IN RESIDENCE AS CURATORS program which is part of BAX's Artists Activated series.

CURATOR'S STATEMENT
"In my practice as a black queer theatre artist writing roles for black masculine-of-center folks, I am consistently met with two frustrating pitfalls of our field. Masculine-of-center, gender non-conforming, and transmasculine folks are up against several systems of silencing that prevent their own stories, talent, and creative genius from being given the space it deserves. This performance is the culmination of a 4-week-long residency for black TGNC artists grappling with the idea of masculinity both as prison and possibility. This workshop provides training, support, and professionalization for MoC, GNC, and transmasculine folks–some of whom I have been cultivating years-long creative relationships with, and others who are new artistic kin–all with the mind that through building deep and intimate relationships, we can co-create a space safe enough and brave enough for these stories to have a platform. It is critical to our time that we hear them. That we love them. And that we support their growth beyond this moment."
NOTE: There will be a reception downstairs and a Meet and Greet for TGNC artists of color to network amongst themselves that will remain in the theatre.

Cemented Layers ( broken open )
Writer: Shanasia mcclain
Director: Shanasia mcclain
Composer/Sound Design: Shanasia mcclain
Performers: Shanasia mcclain
Special Thanks to Nia Witherspoon and BAX | Brooklyn Arts Exchange
This work received support from Iakera Skinner, Sean Montgomery, Dr. Jaquilyn Wilson
Fathers & Figures
Writer: Keyera Lucas
Director: Keyera Lucas
Performers: Victoria Fernandez & Keyera Lucas
Special Thanks to Nia Witherspoon & Victoria
Different Remixes of Heartbreak
Writer: Dorcas
Director: Nia Witherspoon
Performers: Dorcas
Photo backdrop: Sterling (IG: @_sterlingmade_)
Special Thanks to Nia Witherspoon, my co-performers
The Walls Of This Room
Writer: Wazi Maret
Director: Wazi Maret
Performers: Wazi Maret, Keyera Lucas
Special Thanks to Nia Witherspoon

ARTIST BIOS:
(In program order)
jiggyjada
The diverse multi talented jiggyjada. IMDB accredited, unapologetically fluid, Jiggy.
Was born in Brooklyn NY raised in Staten Island The Openly Agressive No label, cares not of who opposes her bold confidence, she stands firm with her verbal intellect and intricate views proving hard work over rules hate and One's judgement. Jiggyjada's musical gifts have enabled her to produce her own music, even create an HBO award winning film titled "The Bully" in 2012.
Jiggyjadas latest venture was Being lead In Nia Witherspoons "Messiah".
Currently jiggyjada is anticipating to drop Her e.p. in January 2020 entitled "Paid Dues" which will be available on all platforms.
Keyera Lucas
Keyera Lucas, Oakland native, studied African Studies and Theatre at Howard University in Washington DC. A jack of all trades, Keyera has worked on the performing, writing, and production sides of projects in theatre and film. When not on or behind stage, they work to educate children and foster their creativity. Keyera feels immensely blessed to have another opportunity to work with Nia Witherspoon.
Dorcas
Dorcas is a non-binary individual who uses they/them/theirs pronouns and claims Philadelphia because it is the city they know best as a child of Nigerian immigrants. They are currently working towards their degree in Health Policy & Management at Columbia University and aspire to become a physician that creates innovative healthcare systems that prioritize LGBTQ+ Black and Brown people. They write poetry to survive, make sense of the toxicity that surrounds them on a regular basis, and recently developed the courage to take things on stage. They are always open to talk health, Flavor of Love, RHOA, Golden Girls, LeBron James, and cheap eats in New York.
Wazi Maret
Wazi Maret is an independent multi-media artist based in Brooklyn, NY with a focus in music, visual arts, and storytelling. Through his work, Wazi explores rituals of healing through music and he encourages the reconnection of mind + body through creative expression. Wazi began singing as a young person in his family church and when he moved to California in 2013, he prioritized growing his skills in song-writing, performance, and production. In 2014, he co-founded an all Black, all queer and trans punk band named AFROFONIX. The group debuted as a headliner for the 2015 Night Light: Multimedia Garden Party at SOMArts in San Francisco. AFROFONIX quickly became known throughout the bay's queer punk scene as a radical soul punk band and they were featured in several events throughout San Francisco and Oakland. In 2018, Wazi co-founded Tender Bois Club just before relocating to Brooklyn, NY. Tender Bois Club (TBC) is a trans-owned music and creative production house that designs streetwear and curates original music and audio productions. Through their creative services and branding, Tender Bois Club does everything with a deep commitment to making the world safer by teaching themselves and other men/masculine people how to practice love, healing and self-expression. Today, Wazi spends his time working on his creative business and building relationships with the vibrant community of artists and Black folks in Brooklyn. You can find more of Wazi's work on his website www.wazimaret.com