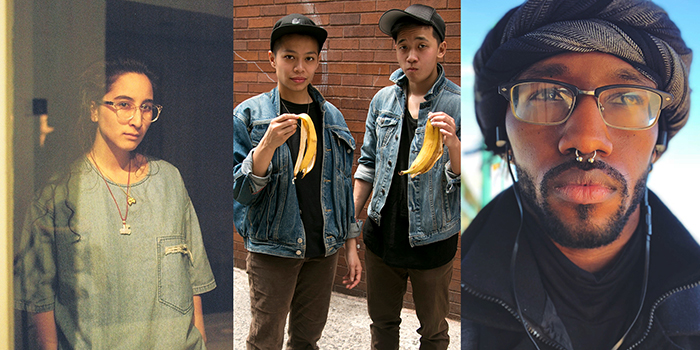 Featuring work by lily bo shapiro, Bex Kwan & Sophia Mak, and J. Bouey
This showcase presents works by Fall Space Grant recipients. The Fall Space Grant program gives NYC based dance, theater and performance artists the opportunity to create new work or build upon existing work in a setting that is conducive to working deeply and exploring new territory.
Friday, November 30 @8pm
Saturday, December 1 @8pm

General Seating, Sliding Scale: $20 / $15 / $10


(Choose the ticket price that best fits your budget.)

lily bo shapiro
a buzzing, stinging, sucking, luring swarm bleached coral ghosts re-turned to thriving flesh. into a widening netted (w)hole
we
shimmering
refracting
reflective
predatory
feeding:
the convergence forms constellations
invent the rearview mirror
the sea is stained with blood
it churns lyrics.
Bex Kwan & Sophia Mak
The artists will continue to explore Double Yolk Moon, an auto-ethnographic cross-disciplinary performance told in shadow, sound, and movement that unearths histories of foreignness, family mythologies and queerness in East Asian communities in the United States through the unlikely friendship between Bex Kwan and Sophia Mak. www.mooncakecollective.com/
J. Bouey
I am furthering an ongoing collaboration between recording artist, producer, and singer-songwriter Thalib where we ask if the religious practices that have been passed down to us and our acquired spiritual practice and meditation serve or hinder us on our journey towards healing from depression and anxiety.