A Night of Performance in Dialogue with the Work of Michael Galasso

Curated by

Catherine Galasso (BAX AIR 2016/18)
Featuring work by

Laurie Berg, Fana Fraser, Georgia Gavran & Jonathan Doherty, Johnnie Cruise Mercer/TheREDprojectNYC, Kristopher K.Q. Pourzal,

and

Ambika Raina
Friday-Saturday, April 13-14, 2018 @ 8pm
General Seating, Sliding Scale: $20 / $15 / $10 HERE
Sight Lines: A Night of Performance in Dialogue with the Work of Michael Galasso is a curatorial project by Catherine Galasso. Initiated to create new dialogues around the body of musical work by composer Michael Galasso, her late father, Catherine has invited six artists/pairings of varied aesthetic, artistic, and creative concerns to create 5-7 minute choreographic responses to unpublished recordings of his compositions. The responses offer new ways to illuminate how the continuous dialogue of music and movement—one that Michael was steeped in— take place across time and artistic tradition. A focused effort in meaningfully locating Michael's work to audiences that may be unfamiliar with his musical contributions, Sight Lines works broadly to uncover layered artistic histories, while encouraging a personal and proactive approach to performance.
Michael Galasso was a minimalist composer active in New York in the 1970s and 80s before relocating to Europe, where he wrote mainly for film, dance and theater up until his death in 2009. He is most known for his compositions for theater director Robert Wilson and Wong Kar-wai's In the Mood For Love soundtrack.
Artist Bios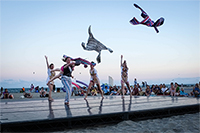 Laurie Berg makes work in a variety of forms including dance and performance, collage, and jewelry. She is a co-organizer of AUNTS, co-curated the Movement Research Spring Festival 2017, was the 2016 recipient of "The Tommy" Award and a 2016-17 LMCC Workspace Artist-In-Residence. Recent works include Terrifying Times Call For Terrifying Jewelry (Dixon Place) The Mineralogy of Objects (Danspace Project, 2015/16) and The Afterlife (New York Live Arts 2013 and Joyce Unleashed at the Invisible Dog Art Center 2014). Her jewelry, which plays with the juxtaposition of real and fake, new and old, precious and plastic, can be seen around the necks of many dance artists in NYC. Performance: lauriemberg.com  Jewelry: anotherbergcreation.com
Photo by Elizabeth Holzer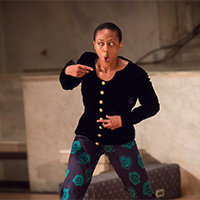 Born and raised in Trinidad and Tobago, Fana Fraser is a performer currently living in New York City. Her performance work is rooted in a contemporary Caribbean aesthetic and framed by narratives of women's erotic agency, desire, and sexuality in the Caribbean. Fana has presented work at the Knockdown Center, Movement Research at the Judson Church, Work Up at Gibney Dance, La Mama Moves!, the CURRENT SESSIONS, Trinidad Theatre Workshop, BAAD!, and Emerging Artists Theatre. Most recently, she was a 2017 Movement Research Artist in Residence Van Lier Fellow and is a 2017-18 CUNY Dance Initiative resident artist. Fana currently serves as the Rehearsal Director for Ailey II, and also performs with Camille A. Brown & Dancers and Ryan McNamara. fanafraser.com
Photo by Ian Douglas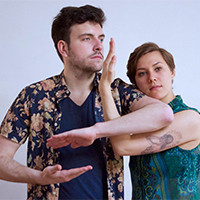 Georgia Gavran, a Wisconsin native, and Jonathan Doherty, a Western Massachusetts native, both graduated from The University of the Arts receiving their BFA in Dance Performance under the direction of Donna Faye Burchfield. Originally introduced at school, they later found each other in Brooklyn, NY, where the friendship blossomed into collaborators. Georgia, animated and sarcastic, and Jonathan, quirky and mercurial, found themselves generating complex and interwoven movements which sparked intrigue to create more work. Utilizing the abstract pairing, they exist in a whimsical and erratic realm. Georgia and Jonathan have shown work together around the New York area at venues such as Brooklyn Arts Exchange, Triskelion Arts, Dixon Place, JACK, and The Tank.
Photo by Quincie Hydock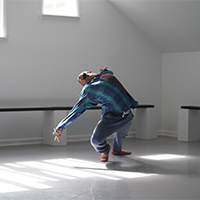 Johnnie Cruise Mercer/TheREDprojectNYC is a choreographer, educator, and freelance performer in the New York City area. As the choreographer/artistic director of Johnnie Cruise Mercer/TheREDprojectNYC, his work with the company has been presented/commissioned by The Center for Performance Research-CPR, Bronx Academy of Arts and Dance (BAAD!), The Dance Place of DC, Gibney Dance: Agnes Varis Performing Arts Center, Judson Church Movement Research, Greenspace, The Bolls Theater of Detroit,  The Jamaica Performing Arts Center, 92Y Harkness Dance Center, NYU Tisch School of Dance, Brooklyn Arts Exchange (BAX) as well as recently at NYU Skirball's AUNTS . He has been in residence at Chez Bushwick Inc, 92Y Harkness Dance Center (2016-2017 AIR), NYU Tisch (2017 Summer Residency Program), was a 2017 BAX Fall Grant Recipient and is currently a 2017-2018 CUNY Dance Initiative Artist in Residence, a 2018 Choreoquest AIR at Restoration Plaza and a 2017-2018 AIRspace Grantee at Abrons Arts Center. Mr. Mercer is a native of Richmond, Virginia, a BFA graduate from Virginia Commonwealth University's Department of Dance and Choreography.
Photo by Torian Ugworji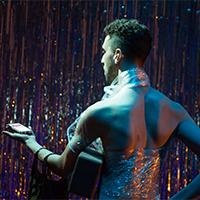 Kristopher K.Q. Pourzal is a queer, black, white, Iranian-American performance-maker/performer. Born and raised outside of Washington, DC, he currently resides in Brooklyn, NY. He makes solo performance using movement, text, food/stuff, and sound. Concepts that are currently moving him include: Black Reason (Achille Mbembe), the Racial Imaginary (Claudia Rankine and Beth Lofreda), Gay Cultural Objects (David Halperin), and Late Capitalism and the Ends of Sleep (Jonathan Crary).
Photo by Scott Shaw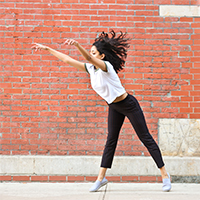 Ambika Raina grew up dancing as an extension of cultural heritage. From Michigan, she is continually influenced by her existence in and connection to foreign places. Her work is rooted in subtlety and understated charm and is always reflecting what it means to be a citizen of the world. In New York City, Ambika has presented work at Center for Performance Research, NYU's Jack Crystal Theater, Westbeth, and Triskelion Arts. She has also presented work in Ann Arbor, Detroit, Durham, Chicago, and at the American College Dance Festival in Milwaukee. She has worked with artists Joanna Kotze, Brinda Guha, Netta Yerushalmy, and the Red Hot Chili Peppers and performed at Madison Square Garden, HERE Arts Center, Dixon Place, Triskelion Arts, and a residency showing at Jacob's Pillow. With a background in Bharatnatyam, Ambika holds a BFA in Dance and a BS in Biopsychology, Cognition, and Neuroscience from the University of Michigan, and she asks questions about a lot of other things, too.
Photo by Taylor Green
Curator Bio
Catherine Galasso has been creating live performance at the intersection of dance, theater, and installation since 2006. Her cross-disciplinary, cast-specific performance works have been seen at established venues like Joyce SoHo, La MaMa, SFMoMA, Bibliotheque National in Paris, Harvard University's Carpenter Center and MoCA Santa Barbara, as well as places like underground Wall Street bank vaults and decaying 4-story homes. Her collaboration with choreographer Andy de Groat (GET DANCING, 2015) was nominated for a 'Bessie' for Outstanding Revival. Galasso has been awarded residencies from The Watermill Center, Headlands Center for the Arts, Kaatsbaan, ODC Theater (San Francisco), and ZonaD Studio (Bucharest), as well as commissions from Danspace, The River To River Festival, the San Francisco Foundation, among others. Her newest work will premiere this June at River To River 2018. She was a 2015-17 Resident Artist with LMCC's Extended Life Program, and is a current 2016-18 BAX AIR. This is her second curatorial project. The first was through Danspace Project's Food For Thought series (2014). www.catherinegalasso.org
Michael Galasso (1949-2009) was an American composer and violinist based in Paris, France. His film scores include In The Mood For Love, and Seraphine for which he was awarded a French Cesar for Best Original Music. He was a collaborator of theater director Robert Wilson for more than 30 years, writing music for A Letter For Queen Victoria (1974), Les Fables de La Fontaine (2004), and Quartett (2006) among others. Galasso composed and performed music for choreographers Andy de Groat, Karole Armitage and Lucinda Childs. He has two albums on ECM Records, Scenes (1983) and High Lines (2005).