an investigation-in-process, by Maria Bauman/MBDance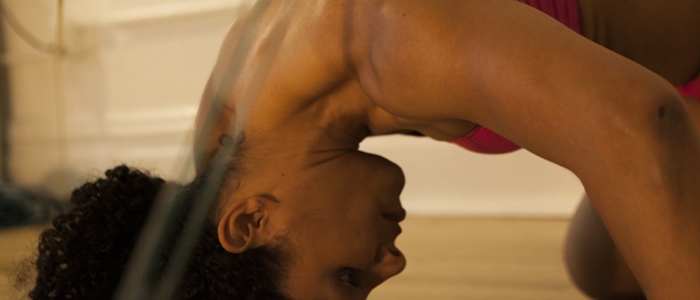 Photo by Kearra Gopee
Friday-Saturday, April 27-28, 2018 @ 8pm
General Seating, Sliding Scale: $20 / $15 / $10
HERE
BAX Artist in Residence Maria Bauman is a dance artist who mines her identities as an artist, a community organizer, and as a Black, queer, not-quite-southern-belle-now-living-in-New-York to create bold and honest dances. In April, she is sharing her newest work-in-progress at Brooklyn Arts Exchange. (re)Source, investigation-in-progress, is shaping up to be an improvisatory piece wherein Bauman dances, sings, and speaks through the assets in her family (both the white and the Blackfolks), what it takes to make it in Trump's U.S., and what her research into maroonage and her own ancestors have to do with all of that. For it, she has made a large set (a 3-D family tree) and she is working with the amazing SoundChemist/VoudouElectro Composer Val Jeanty on sound collaboration. They are contending with "if/then" improvisatory themes of navigating and being resourceful immediately.
In addition to solo choreographed and improvised dancing, the work includes live soundscape composition and performance as well as a visual art landscape Bauman dances with, in, through, and in spite of. Of the work she says, "My experience is that we're all navigating; I certainly am. Whether I am bringing my Blackness across the terrain of conversations on shared and not-shared experiences in our dance field with white colleagues, whether I am using my grandmother's prayers and my father's wit as a map to direct my course through Trump's vision of the U.S., or whether I am sailing over depression and stagnancy with care, I am navigating. And I know I am not the only one moving carefully and without ease over sometimes unexpected terrain."
Since late 2015, Bauman has embarked on a series of outdoor improvisations on non-traditional, inclined, and bumpy surfaces in multiple settings. She is learning how her physicality is both limited and expanded by the terrain. Her exploration of inclined surfaces and uneven terrain as surfaces for dancing–outdoors and inside on structures and obstacles—is inspiration for the landscape she is creating for (re)Source. That landscape includes a 3-D web/family tree made of paper, yarn, and other fiber materials that she dances through. At the early stages of creation, she worked with visual artist Nontsikelelo Mutiti as an advisor on it.
Bauman has brought on the amazing SoundChemist/VoudouElectro Composer Val Jeanty as live sound collaborator. They are contending with "if/then" improvisatory themes of navigating and being resourceful, immediately. The two co-create seamlessly in the moment, based on shared goals. Jeanty and Bauman have an intangible connection which allows them to both plan and work together more traditionally as well as to trigger artistic responses in one another on-the-spot.
Questions central to Bauman's artistic practice for (re)Source are:" What instruments and maps do I, and we, have to guide our journeys—recipes, ancestral memories, daily routines, etc? What specific, unique physical capacities can I utilize to navigate uneven terrain? What are the costs and/or the gifts, especially to people of color and queer folks, of constantly navigating–physically and emotionally?"
Artist Bio
Maria Bauman is a dance artist and community organizer from Jacksonville, FL. Her choreography for her company MBDance (www.mbdance.net) is based on her sense of physical and emotional power, desire for equity, and fascination with intimacy. Bauman brings the same tenets to organizing to undo racism in the arts and beyond with ACRE (Artists Co-creating Real Equity), the grassroots organizing body she co-founded with Sarita Covington and Nathan Trice. In particular, Bauman's dance work centers the non-linear and linear stories and bodies of queer people of color onstage. She draws on her long study of capoeira, improvisation, dancing in living rooms and nightclubs, as well as concert dance classes to embody interconnectedness, joy, and tenacity. Currently, she is Artist in Residence at Brooklyn Arts Exchange and just finished her tenure as 2017 Community Action in Residence at Gibney Dance Center. Bauman is creating a new improvisatory work on lineage and navigation called (re)Source.
In New York, Bauman's work has been showcased at BRICstudios, Harlem Stage, 92nd Street Y Harkness Dance Center, Dixon Place, the Kumble Theater for the Performing Arts, SummerStage NYC, BAAD! Bronx Academy of Arts and Dance, St. Mark's Danspace Project, WOW Café Theater, Summerstage NYC, and more. Bauman and MBDance have also shared dance across the U.S. and in Singapore.
Previously, she was Associate Artistic Director of Urban Bush Women and danced with that company for many years. Bauman has also danced with Paloma McGregor, Nia Love, Kathy Westwater, Mendi + Keith Obadike, and jill sigman/thinkdance, and apprenticed with Bill T. Jones/Arnie Zane Dance Company. She earned her BFA in Dance and English from the Florida State University in 2002, and later earned an MFA in Dance from Temple University.
Additional Media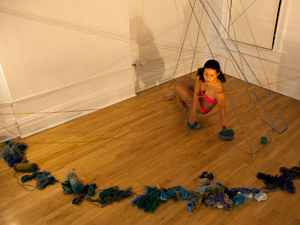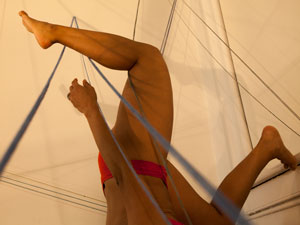 MBDance website: www.mbdance.net