The Theater at BAX has an intimate atmosphere. Somewhere between a loft and a black-box, this theater allows audiences and artists to enjoy a creative dialogue unlike any other in NYC.
We present over 50 performance evenings and matinees each season featuring work by our Artists In Residence (AIR) and Space Grantees, the Upstart Program, Guest Curated Performance & Discussion Series, Visitor's Programs, and the work of young artists from our arts education programs and beyond.
Follow us on EVENTBRITE, FACEBOOK, TWITTER, and INSTAGRAM, or subscribe to BAXnews (our monthly email newsletter) to receive information about updoming shows.

NOW @ BAX
The BAX Board of Directors, Scott Klein, and The Scott Klein Team at Compass invite you to an evening of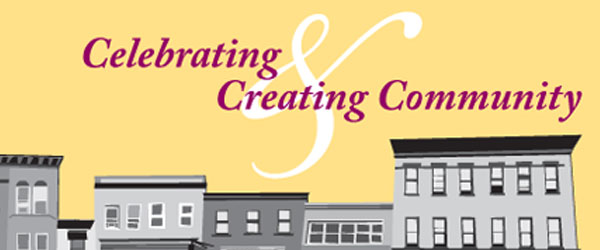 Thursday, September 19, 2019 from 6:30-8:30 pm
Please join Brooklyn Arts Exchange Executive Director Vanessa Adato, Board members, artists and students from the BAX community for an evening of performance and conversation, hosted by friend and supporter Scott Klein at the new Compass office in Park Slope located at 514 2nd St, Park Slope, Brooklyn.
Learn how the Brooklyn Arts Exchange contributes to community and creativity, strengthening and enriching our neighborhood, New York City, and beyond. And find out how you can help ensure that artists in progress of all ages continue to have access to all that BAX has to offer.
Enjoy light refreshments and mix and mingle.

VISITORS PROGRAM
Full of Crop: Performance outside the frame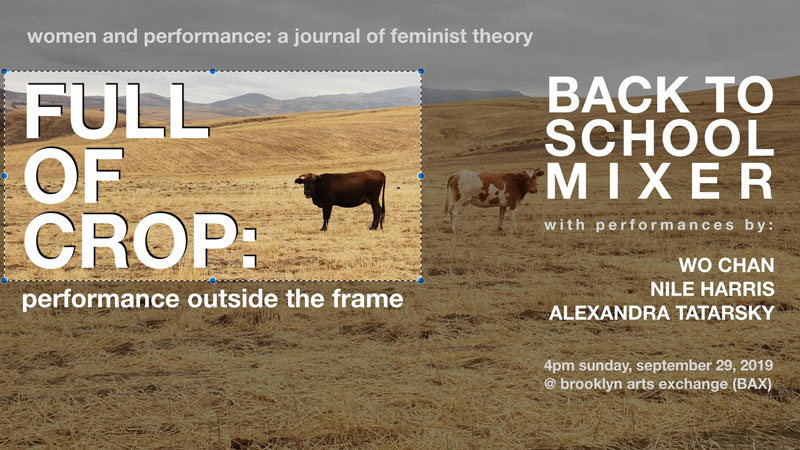 Sunday, September 29, 2019 @ 4:00 pm
Come together for Full of Crop: Performance outside the frame, our fifth annual "back to school" fall mixer featuring an exciting evening of live performance, movement, poetry, and mingling that highlights performance in the Internet age. Performers Wo Chan, Alexandra Tatarsky, and Nile Harris each explore the ways that neoliberal politics haunt the framing of personal experience and self-presentation on the Internet. Through filters and edits one might achieve that picture-perfect moment, but our performers seek to ask, who and what gets left outside the frame? What haunts the crop? When do #goals make us #ghosts? Full of Crop assembles a myriad of approaches to performance, from clownery to dance, as each performer addresses the desire to be liked, double-clicked, and reposted, on the road to becoming one's own exploiter. 
As the current political moment seeks to exhaust its marginal subjects, we're committed to creating a revitalizing space of solace and laughter as we come together to be unapologetically unphotogenic. We invite our communities to join us for an evening of collective, critical, and absurd celebration of these highly mediated times.
Note: this event has limited capacity, so please arrive early!
CLICK HERE FOR MORE INFORMATION
This production is being presented through BAX's Visitors Program, a subsidized performance package rental program, and is a self-production curated by Yarden Stern and presented by Women & Performance: a journal of feminist theory.